Jinki
(神器, dosłownie oznacza "Boskie naczynie") to tajemnicze artefakty; pojawiają się one jako kuliste kulki zamknięte w krystalicznej skorupce z wygrawerowanym numerem.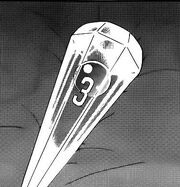 Description
Edit
Są ponumerowane od # 1 do # 8; każdy był na jednym z 8 statków kosmicznych Sekirei. Miya opisał je jako przedmioty pochodzące z epoki bogów, ponieważ o ich posiadanie Ashikabi i Sekirei nieustannie walczyli z krwią i smutkiem . Wspomina je również jako przedmioty posiadające moc kontrolowania życia i śmierci Sekirei, przedmioty, które mogą zmienić przeznaczenie Ashikabi, oraz jako przedmioty o małym promieniu nadziei. Jeśli wszystkie osiem z nich zostanie zebranych razem, możliwe jest zakończenie wszystkich Sekirei, ponieważ posiadacz jest w stanie połączyć się bezpośrednio z rdzeniem Tama / Sekirei; w ten sposób umożliwiając Ashikabi włączanie i wyłączanie Tamy, jak chce.☃☃ ☃☃☃☃☃☃☃☃ Ale ponieważ Sekirei połączyli się ze swoim Ashikabi i przekazali Tamę, Jinki można również wykorzystać do wywierania wpływu na ich potomków, powodując masowe ludobójstwo na ludziach. ☃☃ Obecna generacja Sekirei została zmieniona przez MBI, aby zmniejszyć ich siłę poprzez umieszczenie w nich ograniczników; Jinki mają moc usuwania tych ograniczników. Ale Jinki nie tylko usuną ograniczenia siły Sekirei, usunięcie ograniczników wzmocni również dominującą cechę osobowości; na przykład gwałtowny Sekirei stałby się bardziej gwałtowny, gdyby ogranicznik został usunięty.[1]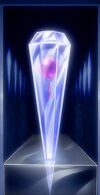 The Jinki can be used to link to the Tama and thus have an effect on both
Ashikabi
and Sekirei. There were various occasions when they recalled memories of the past caused by the Jinki. The most notable ones were when
Minato
recalled memories of
Musubi
/
Yume
[2]
and when
Tsukiumi
saw Miya telling her to get strong when she still was a kid
[3]
. Yume explained once that the vision Minato had were memories carved into his genes.
[2]
The Jinki were used by Minaka Hiroto as prizes for the Sekirei Plan matches of the third stage. Though Minaka is aware of the dangers the Jinki possess, he is willing to take the risk. He also states that "originally the rightful owner of the Jinki would have been there as well" meaning someone from the Izumo Inn[3] referring to Miya. Minaka has also called the Jinki "a weapon of the gods" and claims that if all of them are gathered "the age of the gods will be restored to this world".[4] During the third stage Minaka announced that the number of Jinki an Ashikabi possesses equals the chances he has in the later stages of the Sekirei Plan.[5]
Miya was able to use the Jinki to show Minato (via telepathy) the true history of the Sekireis from the time of their initial descent to Earth[6]. Minato's Sekireis were also able to join in the vision due to Miya's amplification of their telepathic link to Minato using the Jinki[7].
The first match of the fourth stage required all eight Jinki to be taken to specific locations on Kamikura Island and placed in correspondingly-numbered receptacles in order to counteract an effect that was harmful to Ashikabis[8].
List of Jinki
Edit
Interesting facts
Edit
Jinka's housing resembles the basic version of Hōgyoku from Bleach, when Sosuke Aizen pulled it inside the interior of Kuchiki Rukia.
References
Edit
Community content is available under
CC-BY-SA
unless otherwise noted.