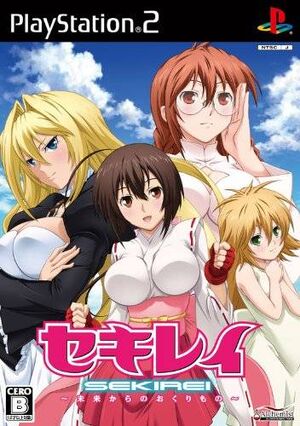 A Sekirei video game for PlayStation 2 entitled Sekirei ~Gifts from the Future~ (セキレイ ~未来からのおくりもの~) was released on October 29, 2009 by Alchemist in limited and regular editions. The limited edition version was bundled with figures of Musubi and Tsukiumi with Kusano in a panda suit, a 40-minute drama CD, and an illustration of Matsu. While Musubi, Tsukiumi, Matsu, Kusano, Miya, Homura, Uzume and Minato reprise their roles from the anime and manga, four new characters were created by Alchemist consisting of two Sekirei, one Ashikabi and a baby as video game-only characters.
The game takes place in the Sekirei timeline, being played as a visual novel. Minato and the Sekireis in Izumo Inn encounter new characters consisting of Sekirei No. 54, Kuruse (来瀬), Sekirei No. 57, Yahan (夜半), Ashikabi Koya Reiji (甲屋 玲治, Koya Reiji) and a baby referred to as Aka-chan (赤ちゃん). It centers around the discovery of the said baby, who is being pursued by unknown persons after Minato and the Sekireis found her abandoned in the city. Along with the game an Audio Single was released featuring the opening and ending theme of it.
Game only characters
Edit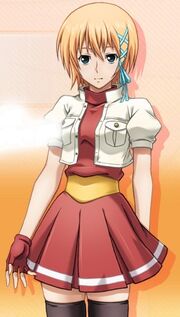 Kuruse
(来瀬, Sekirei #54)
Voiced by: Haruka Tomatsu
A young Sekirei who is a trident-based fighter. She has the ability to use multiple tridents by conjuring them in order to launch them as projectiles. Eventually becomes an ally of Minato and his Sekirei.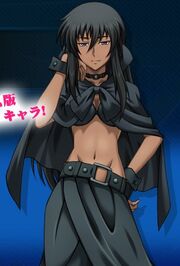 Yahan
(夜半, Sekirei #57)
Voiced by: Ayahi Takagaki
A black-haired, dark-skinned Sekirei who uses teleportation to help her fight as her unarmed combat skills are considered to be average. She uses a dagger when fighting in conjunction with her abilities.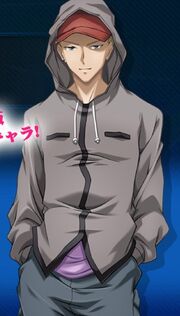 Koya
Reiji
(甲屋 玲治)
Voiced by: Yūichi Nakamura
The Ashikabi of No. 57 Yahan.
Aka-chan
(赤ちゃん)
Voiced by: Haruka Tomatsu
An abandoned baby found by Minato and his Sekirei, she is the target of the two Sekirei due to an unknown ability.
Community content is available under
CC-BY-SA
unless otherwise noted.